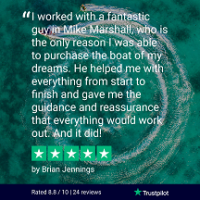 Mike Marshall
Mike is a top rated boat loan agent for Intercoastal Financial Group who has over 20 years of consumer lending experience. After completing 8 years of service as United States Marine, Mike continues to develop his leadership skills as an experienced manager. See his reviews for more.
Contact Mike
Customers Intercoastal
See what our customers are saying about their Intercoastal experience.